EASTSIDE "THE PRIDE OF EASTSIDE" BAND IMPORTANT INFORMATION
---
​2017-18 TPOE MARCHING BAND FEES

Band fees are as follows: Rookies (New Band Members) $275 and Veterans $225. The $50 extra for rookies includes marching band shoes as well as some additional TPOE mandatory apparel (string bags, shorts, shirt). The band fees cover other expenses such as band camp, staff, food (many meals, both in and out of season) and much, much more. We try to utilize your money in the most efficient way to keep our band successful!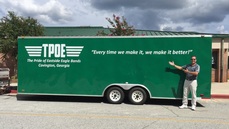 CAR PICK-UP LINE AFTER FOOTBALL GAMES/EVENTS

When picking up your student at Eastside High after a football game or any event that uses school bus transportation, please do not park or idle at the right lane curb in front of the school. You will block the band trailers and school buses returning from the game. The kids and volunteer parents are very efficient at unloading the equipment back into the school and it is important that they can access the doors as soon as they arrive. As soon as the trailer is unloaded, EVERYONE can go home!
---
---
AWAY GAMES OR BAND EVENTS

When the band is scheduled to play away from Eastside High or Sharp Stadium, it is important that they be at our school ON TIME to ride the buses to the away venue. Those times are posted on the Weekly Band Agenda. We try to have an estimated return time posted as well, but these times can vary due to a long football game, rain delays, etc. We always try to keep the parents posted via Remind Text Updates (see below).

Parents and band supporters are ALWAYS welcome to follow our buses to the Away venue!
---
CAR RIDER AFTER A FOOTBALL GAME OR BAND EVENT

Band kids are required to ride the bus back to Eastside High School after a football game or other band event.
If you would like to take your child home directly after a football game or band event instead of riding the bus, you MUST provide a written and signed note to Robert and Marrianne Arnold (Head Chaperones) or Mr. Fowler prior to the event preferably by Thursday. Band kids are not allowed to leave from a football game or other event without a note from a parent or guardian.

---
BAND UNIFORMS

Band Uniform requirements can sometimes vary for different events. The band kids are informed of that week's uniform requirements by Mr Fowler and it is emailed/texted out to the parents also. If your child does not wear the appropriate uniform or accessories, he/she will not be allowed to march on the field. For example, if the uniform is green band shorts, show shirt, black socks and marching band shoes and your child wears white socks, they will not be allowed on the field. It is important that your band student knows what to wear each week. Typically, the fall uniform is the Eastside bibbers and jacket (provided by the school), black socks (NOT ankle socks) and marching band shoes. Black long socks are the item that are most often forgotten.
---
VOLUNTEERS
We are ALWAYS looking for band volunteers! There are a variety of ways you can help including chaperoning, helping the food concessions, sewing uniforms, etc. You can make a regular commitment or just volunteer for a couple of hours as needed. If you would like more information, visit our
Volunteer page
to see the committees and other needs.
​Get involved and support The Pride of Eastside Eagle Band!

​
---
REMIND (TEXT UPDATES)
REMIND is a safe way for teachers to send text messages to students and stay in touch with parents. It is a notification program that sends out text and email messages directly from the teacher. It does NOT provide conversation interaction. Teachers create a class in REMIND and the class is assigned a unique code that is used when students and parents sign up for text or email notifications.
Use the number (424) 543-7245 and add the following Band Remind 101 numbers:
@TPOE is the group for the band students to receive class notes, practice reminders, assignments, etc.
@ehsbandb is the group for parents to receive Band Booster info, football game reminders, etc.
---
CHARMS
Charms is where you can find all your band account information including finances, personal information, etc. Additionally, we use Charms as our mass email account. If there is important band information, we use Charms to notify you and your parent. There is also a section for Volunteer Needs. To access Charms: go to
www.charmsoffice.com
and enter
eastsidehsband
as the school code. Your student number is your password. If you have problems with your log-in, please email
Mr Fowler
.
---
Words to the Eastside Eagles Fight Song

​Because you have to learn it somewhere!

Fight Team, Fight for Eastside
We must win this game
Onward now you Eagles
Bring glory to your name
FIGHT, FIGHT, FIGHT
Here's to all your colors
Silver, green, and white
Playing for a victory
So, FIGHT, FIGHT, FIGHT!!!