CURRENT:

FilmRaiser

Support TPOE by simply going to the movies to see your favorite films. Go to
www.filmraiser.com
and search for The Pride of Eastside. Answer a couple of questions and purchase your tickets online at Fandango. The best part is...TPOE gets ONE DOLLAR for every ticket sold on opening weekend.
GaSchoolStore.com
A Remind went out just after 5pm on July 14th with The Online ID: 4965521. Today's kick-off was FUN! Thank you to all who participated. Please continue selling between now and Monday, July 24th. If you missed out today, there is still time for you to get involved, check with Mr. Clark Monday. Also, the College/University Team Flier will go home Monday.
THE PRIDE OF EASTSIDE BAND FUNDRAISING
Fundraising is an important part of being in a high school band. There are many different elements that make up a successful marching band including uniforms, travel costs, competition fees, instruments, and much more. Throughout the school year, TPOE will have several fundraisers to raise money for band necessities. Additionally, fundraising is a great way for students to learn valuable life skills such as leadership, team-building, and money management.
We have several ongoing TPOE fundraisers such as linking your Kroger Rewards card to "The Pride of Eastside" and the Amazon Smiles program.
Corporate sponsorship of our Band trailer is another great opportunity to raise funds!
Details of all these programs are below.
If you have an idea for a new fundraiser
or
if you are a business seeking a partnership opportunity with The Pride of Eastside Band, please email
bandboosters@prideofeastside.org
.
Go Eagles! Go Band!
---
Trailer Sponsorship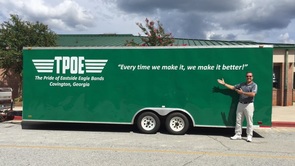 Introducing a new fundraising opportunity for the Eastside High School Band, corporate sponsorship. We will be providing excellent mobile advertising opportunity for our local businesses by offering a "sign position" on our Band trailer.
Download the form below and reach out to your favorite local companies!
Any questions, please email any questions to b
andboosters@prideofeastside.org
and thank you for your support!
---
---

Amazon Smiles​​
If you're a regular online shopper at Amazon.com,
register for the Amazon Smile program
so that every time you shop, a portion of your purchase goes to TPOE!
Amazon Smile is a VERY easy way to give back to Eastside Marching Band! Simply register your existing Amazon account with
smile.amazon.com
and then select "Eastside Band Boosters" as your charity of choice.
Whenever you make an Amazon purchase, go through
smile.amazon.com
(we've placed a convenient Amazon Smile button here and on the TPOE Home page) and go shopping! TPOE will receive a donation from the Amazon Smile Foundation.
​
Your friends and family can do this too! This is a comple
tely private and secure transaction. Eastside Band will not be able to see your purchases!

​
Help us spread the word, raise funds and GO BAND!
---
---


The Pride of Eastside Band is now registered for
Kroger's Community Rewards program
. With this program, our supporters simply register their Kroger Plus cards, choose "The Pride of Eastside" as their Community Rewards organization, and each time they use their Kroger Plus card,
The Pride of Eastside Band receives money!
Kroger will send us quarterly payments of up to $8,000. And, in case you are wondering, this will NOT affect your fuel points!
Registering is easy! Just follow these steps:
Register online at krogercommunityrewards.com
Click on Sign In/Register
If you are a new online customer, click on SIGN UP TODAY in the 'New Customer?' box and follow the directions to set up your online account. If you have previously registered, then just sign in.
After you have established your account, click on Edit Kroger Community Rewards information and input your Kroger Plus card number. Then type "The Pride of Eastside" as your organization, or enter our group number which is 34813, and select The Pride of Eastside from the list.
To verify you are enrolled correctly, look for The Pride of Eastside at the bottom on your "My Account" information page.
Every time you swipe your registered Kroger Plus card or use the phone number that is related to your registered Kroger Plus card, Kroger will donate $$ to The Pride of Eastside Bands. Don't forget to ask all your family members and friends to register their Kroger cards. Happy shopping and Go Eagles, Go Band!
---
---
The Coke Glasses are ongoing until we run out of stock....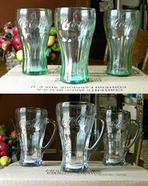 Coke Glasses and Mugs for sale!
This fundraiser is ongoing until we sell out: These wonderful "old-fashioned" Coke glasses are for sale by the case - $15 for the regular glasses and $20 for the mugs with handles. Twelve glasses to a case - These are very nice glasses, would make a great present, AND 100% OF THE PROCEEDS GO TO THE BAND!

No shipping, but you can pick up at the band room. Please contact Mr. F or call 770-786-5922 if you'd like to purchase these. Thank you!
---