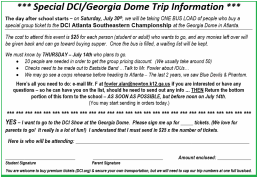 DCI Trip Info Details/Itinerary - Sat., 7/29
1pm - Meet at Eastside
1:30pm - Depart for Tri-Cities HS
2:45-4:45pm - Observe Cadets Rehearsal
NOTE:
We will bring bottled water, you may want to bring hats, sunscreen, umbrellas (for shade), etc... It will be hot, but worth it.
5pm Depart for Georgia Dome
Please bring money for supper, I'd like to be in the Georgia Dome (seated) by 5:58 to see Spirit of Atlanta's 40th Anniversary Show
Here is link to the line-up at DCI.org
FOOD at The Georgia Dome is PRICEY, but on this occasion, we do not really have much choice. Also, there is a new policy for entrance into The Georgia Dome - See below:
KNOW BEFORE YOU GO:
The Georgia Dome will have a clear bag policy in effect for this event, restricting the size and style bags that will be permitted within the venue.
CLICK HERE
​We should arrive back to Eastside around 11:30pm, perhaps 11:45.
​
---


Useful Links