Band Boosters Officers and Committees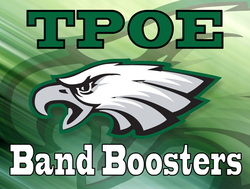 The TPOE Band Boosters Association is the parent support group for all of the band programs at Eastside High School. It consists of any individual that expresses a desire to work to promote the wellness of the band program, and provide opportunities for the students to experience positive activities in our school, community, and on the road. Each parent or guardian is encouraged to become an active member of the Band Boosters Association to support their child and provide the needed assistance to the Band program that must be present in order for us to operate according to the standards that have been established in the past. We ask that every parent make an effort to become involved in some way so that the program will continue to flourish. What better way to support and encourage your child than to become involved in the Band Booster program!

---
EXECUTIVE BOARD
TPOE Band Boosters are a wholly volunteer organization whose only responsibility is to support the Eastside High School Band Program. Without dedicated volunteers there is no way that our goal would be achieved. It takes a great deal of time, organization and effort each year to meet the needs of the Band Program. Please take a moment to look over the volunteer committees below and let us know if you could help, even if it's for just an hour of your time! There is a place for everyone and we need you!
CHAPERONES
- Responsible for recruiting and arranging chaperones per the recommendation of the Band Director for each officially sanctioned Band function. This includes all football games, marching and concert band competitions, parades, Band Camp and any other event that takes the students off campus. The chaperones may also be requested by the Band Director to handle additional responsibilities, e.g., maintaining the medical forms file, or accompanying students during an emergency situation.
COLORGUARD
- The TPOE Colorguard grows larger and more successful every year, and this integral part of the Marching Band needs committee members to assist with costumes, props, hair & makeup. They may also be asked to help with other events such as Pep Rallies or auditions, as determined by the Director and Colorguard Staff Liason.
CONCESSIONS
- The Concessions Committee is responsible for the concession stands at the home varsity football games. Profits from concessions, one of our leading fundraisers, are applied directly to the general band fund, thus benefiting all band students. Committee members are needed to set-up, prepare food, sell concessions, handle money, and clean up. Many volunteers are needed during football season, with the goal of having enough help so that most will need to work only one or two events. Parents, grandparents and other adult relatives who volunteer to work in Concessions can earn credit for their student's expenses and travel fund.
CORPORATE SPONSORSHIPS
- This committee works year-round to solicit funds/donations from local businesses to support the Band Program. They will be selling ad space on the Band road trailer and on the website. In addition, committee members may be asked to investigate and submit applications for Grants as an additional means of support for the Band.
EQUIPMENT & LOGISTICS
- Usually referred to as the "Pit Crew", this committee loads/unloads and transports large instruments, props and equipment to and from the field for all Band Performances.
"FEED THE BAND"
- Depending on the Friday game travel schedule, there is often a need to make sure the band gets snacks or dinner. This committee oversees arrangements for ensuring the students and staff are fed. There may be other times utilizing this committee's efforts to feed the band, such as between practice and group pictures, trips to performance evaluations, etc.
FUNDRAISING
- This committee investigates fundraising options to present to the Executive Board for consideration. This committee is then responsible for organizing, administering and overseeing all approved fundraising activities for the Band Students.
SPECIAL EVENTS
- All banquets, special events and trips that are undertaken throughout the year are organized and overseen by this committee.
UNIFORMS
- This committee is responsible for issuing and maintaining Marching band uniforms and concert outfits. They schedule fittings for students, assisting with alterations and repairs as necessary, before, during and/or after performances. They prepare and take uniforms to the cleaners as needed and oversee disbursement and storing of uniforms for all band functions.
WEBSITE / MEDIA
- This committee makes sure the Community knows what is going on with the Band, and what an outstanding and talented group of students we have at Eastside! Members ensure that notices and/or flyers are prepared and posted prior to Band Events, and submit photos, text and/or announcements to the local media (including the internet), in order to promote attendance at TPOE Band Activities and Fundraisers. The committee is also responsible for website maintenance as needed to keep all information current.
Other ways to be involved:
Can you be available as an extra adult at an occasional band practice? Can you stay after a practice to make sure every student has a ride home if Mr. Fowler needs to leave for another meeting or event? Could you be available during the day to help unload/organize the band's fruit order or help with other fundraising events? Can you help in the band office once or twice a year to organize forms, make copies, apply labels, etc? Do you have any other ideas? Please let us know!
COMMITTEE EMAILS:
CHAPERONES
COLORGUARD
CONCESSIONS
CORPORATE SPONSORSHIPS
EQUIPMENT & LOGISTICS
"FEED THE BAND"
FUNDRAISING
SPECIAL EVENTS
UNIFORMS
WEBSITE & MEDIA