Marching Band History
No, Eastside High School doesn't go as far back as the early photos above! But we do have a great history nonetheless, and are proud of being part of a long tradition of marching bands! Did you know the marching band originated with traveling musicians who performed together at festivals throughout the ancient world? It evolved and became more structured within the armies of early regions, becoming the basis for the military band, from which the modern marching band of today has emerged. As musicians became less important in directing the movement of troops on the battlefield, the bands moved into increasingly ceremonial roles.
Many military traditions survive in the modern marching band. Bands that march in formation will often be ordered to "dress their ranks" and "cover down their files." They may be called to "attention," and given orders such as "about face" and "forward march." Uniforms of many marching bands still resemble military uniforms.
Outside of police and military organizations, modern marching bands are most commonly associated with American football, specifically the pregame and halftime shows. Many universities had bands before the twentieth century. In 1907, the first formation on a football field was the "Block P" created by Paul Spotts Emrick, director of the Purdue All-American Marching Band. Spotts had seen a flock of birds fly in a "V" formation and decided that a band could replicate the action in the form of show formations. The first halftime show by a marching band at a football game was done by the University of Illinois Marching Illini, also in 1907, at a game against the University of Chicago.
Another innovation that appeared at roughly the same time as the field show and marching in formations was the fight song. School fight songs are often closely associated with a school's band. Many of the more recognizable and popular University fight songs are widely utilized by high schools across the country.
Other changes in marching band have been:
adoption of the tradition by secondary schools (high schools, junior high schools, and middle schools)
the addition of a dance line and baton twirlers/majorettes
the addition of color guard members
Since the inception of Drum Corps International in the 1970s, many marching bands that perform field shows have adopted changes to the activity that parallel developments with modern drum and bugle corps. These include:
marching style: instead of a traditional high step, drum corps tend to march with a fluid glide step, also known as a roll step, to keep musicians' torsos completely still
the adaptation of the flag, rifle, and sabre units into "auxiliaries," who march with the band and provide visual flair by spinning and tossing flags or mock weapons and using dance in the performance
moving marching timpani and keyboard percussion into a stationary sideline percussion section ("pit"), which has since incorporated many different types of percussion instruments such as: Tambourines, Crash Cymbals, Suspended Cymbals, Bass Drum and Gong Sets, Chimes, EWIs (Electronic Woodwind Instrument), and most Keyboards
marching band competitions are judged using criteria similar to the criteria used in drum corps competitions, with emphasis on individual aspects of the band (captions for music performance, visual performance, percussion, guard (auxiliary), and general effect are standard).*
History of TPOE Eagle Bands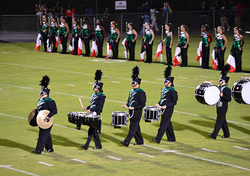 Eastside opened in the fall of 1994 as a transitional school (grades 6-9), with the Eagle Claw Band under the direction of Mrs. Arlene Woods. After two successful years, as Eastside began to grow into a high school, the reigns of the fledgling band program were handed over to Mr. D. Alan Fowler, and The Pride of Eastside Marching Band took the field in the fall of 1996. Presenting a variety of musical selections over the years, The Pride of Eastside has always performed exciting shows which have been well-received by both football and contest crowds alike. From that first season of 40 high school students, the Eastside marching band currently boasts more than a hundred members and is preparing to take flight for a new season. Over it's first eight years, The Pride of Eastside has traveled to Chattanooga (TN), Jacksonville (FL) for the 2000 Gator Bowl, Disney World, Cleveland (OH), Toronto (Canada), Chicago (IL), and Ft. Myers (FL). In May of 2006 the band performed a Memorial Day concert at Pearl harbor in Hawaii. Joining the musicians on all of these trips, as well as all of our marching band performances, is The Pride of Eastside Colorguard, which is the visual ensemble element of the Eastside marching band and one of our most accomplished groups. Since its inception, the Colorguard has been led by Eastside Auxilliary Coordinator Susan Fowler and has become a focal point of our program.

The Eastside band program includes both a Symphonic Band and a Concert Band, which are active year-round. The concert arms of the band perform 5-7 concerts each school year including participation in the Georgia Music Educators Association (GMEA) Large Group Performance Evaluation Festivals each March. The Symphonic and Concert Bands have always received superior and excellent ratings at these festivals. Each year the marching band performs at contests and festivals, as well as parades and other events, throughout the state. Maintaining an increasingly demanding performance schedule, the band program has spawned other performing ensembles such as: The Eastside Trombone Choir and Trombone Quartet, The Eastside Drumline, and the ever-popular Screaming Eagle Jazz Band. In January 2002, the Trombone Choir became the first ensemble from Newton County (in memory), to perform at the GMEA Annual In-Service Convention in Savannah, Georgia.

While the group achievement of the EHS bands are clearly noted above, we have also been honored these last several years to have record numbers of students winning selection to the GMEA District Honor Bands each year and since the spring of 2000, 16 Eastside band members have been chosen to participate in the Georgia All-State Bands. Davis Harwell and Heath Williams, both Eastside trombonists, were also chosen to perform in the prestigous Atlanta Symphony Youth Orchestra.

In short, The Pride of Eastside and all of its elements are continuing to grow and mature. If you are planing to attend Eastside High School, be sure to get involved with the band, and if you come to a concert, game or competition, please check us out and make a point to say hello!

---
*(General band history excerpted from Wikipedia)